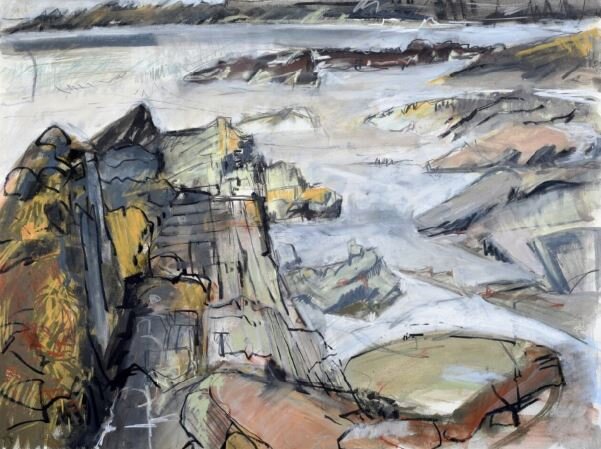 Kittie Jones | 7-9 April
The natural world and landscape – mixed media drawing
Beginning by drawing on location students will be shown different ways to gather information in sketchbooks. Kittie will encourage students to work with the micro and macro of a landscape – taking time to explore details of flora and fauna alongside the broader structures of a place. An expressive and exploratory approach to drawing in the landscape will be encouraged. Back at the studio time will be spent playing with a mixed-media approach to developing drawings that capture a complete view of our experiences of landscape. Ink, charcoal, pastels and collage will be used alongside basic printmaking techniques to create a series of monochrome and full colour drawings. Artists whose work will be considered during the course will include Nik Pollard, Dafila Scott, Joan Eardley, Mary Newcombe, Kim Atkinson and Duncan Shanks.
About Kittie
Kittie Jones is a fine artist whose work is directly inspired by the natural world. She graduated from Edinburgh College of Art and Edinburgh University in 2008.
Kittie regularly exhibits around the UK; she was elected as a professional member of the Society of Wildlife Artists in 2016 and has been a professional member of Visual Arts Scotland since 2013.
Kittie works in a variety of ways with drawing at the core of her practice, she often makes mixed media drawings out in the field and other ideas get transformed into unique multi-layered monotypes and small-edition screen prints. Her practice begins out in the field where she is inspired by the creatures that inhabit the natural world – work made outdoors provides a starting point for prints and often is an end in itself.
'My work is concerned with the experience of time spent looking and interpreting the natural world. I am drawn to places which have an abundance of nature – sea bird colonies, fertile coastlines and remote islands. On drawing trips I will settle in a promising spot and start to develop work from there. The energy in the work comes from the constantly changing elements of the natural world – birds moving in and out of vision and the shifting quality of weather and light. My attempts to capture the change are what interests me, as well as my enchantment with a world which, as a human, I will only ever occupy the edge of.'
Alongside her work as an artist, Kittie teaches on the Portfolio Course at Bridge House Art in Ullapool over the winter and regularly delivers a variety of fine art workshops at Leith School of Art and for the National Galleries of Scotland.
Web: kittiejones.com/
Facebooke : Kittie Jones Artist