David Tress | 22-24 September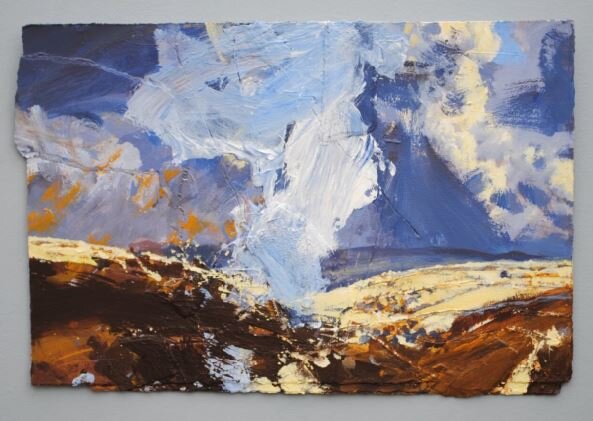 David Tress | 22-24 September
Responding to Landscape – Expression and Structure
In this three day landscape painting course David Tress will look at the building blocks which underlie representational landscape painting – light, space/perspective, tone, colour, composition – and will also consider the ways in which an expressive or emotional response to landscape might be explored. There will be a balance between describing and demonstrating the various painters' 'tools' which allow the making of strong representational paintings and vigorous compositions, and an exploration of risk-taking and 'gut response' in making landscape paintings which allow and encourage a more expressive approach to the subject.
Each day will include demonstrations and studio work, and sketching and drawing in the surroundings of Lund Studios. Tuition will be both as a group, with demonstrations and discussions, and individually for all course members with help, discussion and suggestions. Demonstrations will be in acrylic, some of them additionally using mixed media and collage, and to follow these demonstrations and fully benefit from the subjects and techniques covered you will find that acrylic paint is the most suitable medium for you to use.
There are many interesting and attractive subjects for drawing in the fields and old farm buildings around Lund Studios. Additionally you will find it useful to bring with you any drawings and other visual material that you may have of other landscapes – these can include sea coast, mountains and moorland and landscapes in general.
We hope as always for good weather when out drawing – but please bring along some stout shoes or boots and waterproof clothing just in case!
Sold Out
About David
David Tress was born in London in 1955 and grew up there, showing an early interest in painting, drawing and natural history. After studying science with biology at A-level, he changed direction and spent a year at Harrow College of Art, before taking a Fine Art degree course at Trent Polytechnic.
While he was at Trent, he became involved with experiments in conceptual and performance art but later, came to question the assumptions of modernism. His rejection of modernism was, however, not so much a return to the beginning, as a rite of passage, which has brought to his landscape and figurative painting some aspects of abstraction retained from his earlier work.
David Tress has lived in West Wales since 1976, and the landscape of this part of Britain forms the subject of many of his paintings. He has exhibited in Wales, England, Ireland, France, Holland and America and has works in public collections including: The National Museum of Wales, The Contemporary Art Society for Wales, The National Library of Wales, MOMA Wales, The Guildhall Art Gallery City of London, and Pallant House Gallery Chichester.