Cas Holmes | 30 June - 3 July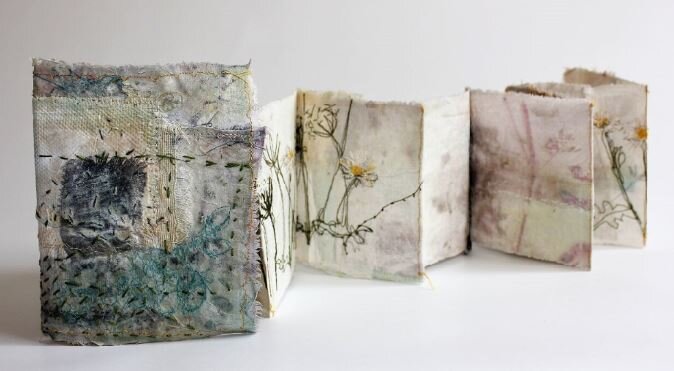 Cas Holmes | 30 June - 3 July
Sketch-Stitch-Book Folding Bookforms
Explore creative ways of developing ideas through mixed media including painting and mark making, collage, drawing with found objects, stitching and layering to open up the thought processes to the creation of your own folding book.
You will have started a folding book form reflecting your own interests or based on the often overlooked aspects on the 'Edgelands' of our landscape and the connection between urban and nature. The surrounding landscape will equally act as reference.Hedgerows, edges of fields and footpaths will provide both inspiration and source references. . Low-tech methods will transform raw materials and found objects into small personal work following personal narratives Simple drawings staining and colouring of cloth and paper, cutting, pasting, stitching and collage will be our primary tactics to turn the ordinary into the extraordinary.
This is not a book-binding course.
On the first day: We will look at rubbing, staining and mark making, on paper and cloth using drawing/painting media and stitch. Reference will be made to paper lamination layering of paper with found materials and fabric using techniques adapted from Japanese screen making and paper crafts. As you work you will look at the references to text and other images you have collected. and consider how you may want to place them together.
On the second and third days Look at ways of working with the cloth, paper and samples produced to date focusing on use of the use of text/image to inform the stitch/mark. Ways of joining pieces together, patchwork, seams, gathers, tearing, building towards textured and sculptural surfaces
About Cas
Cas Holmes is the author of several textile and mixed media books for Batsford publications. The most recent, Textile Landscape (released in September 2018) explores the rich use of colour, stitch and mixed media to exploit the tactile nature of textiles turning traditional approaches to landscape on its head. It almost exclusively held the number one spot in Landscape Painting category in the first year of it publication on Amazon. She is currently working on a new body of work for exhibition in Antwerp in 2021 and preparing for her forthcoming trip to Australia in 2020